Animal Care
Summer News and Updates: A Season of Groundbreaking Research and Lifesaving Care
The NC State College of Veterinary Medicine continues to have a huge impact on our community, from research into dog dementia to opportunities for law enforcement officers to learn about equine abuse. 

IN THE SPOTLIGHT
BACKED BY THE PACK. When Kacie the calico cat started showing concerning symptoms, her owner and local vet – both NC State alumnae – knew they could trust the NC State College of Veterinary Medicine with her life-saving treatment. "These are my people. This experience embodies for me the good things that happen at State," her owner says.
OUR CLASS OF 2027. Whether students fresh from undergraduate degrees, professionals pivoting to new careers, lifelong North Carolina residents, newcomers to the state or country, parents of human children and fur moms and dads, the first-year students of the College of Veterinary Medicine are amazing achievers.
STEP BY STEP. When a car accident left Great Dane puppy Bentley with a broken back, his family worried he might never walk again. An innovative spinal surgery at NC State started him on the right foot, and Bentley is back to walking and playing today, with some additional hardware. "That's the best feeling in the world. That's why we do what we do," one veterinarian says.
SIGNS OF DEMENTIA. Dogs who slow down physically also slow down mentally, according to a new NC State study. Measuring gait speed in senior dogs could be a simple way to monitor their health and to document decline in their neurological function as they age. Our Dr. Natasha Olby, one of the world's only veterinary gerontology experts, was corresponding author of the study.
HEAVENLY HEALING. Chapel Hill tabby cat Leo arrived at the NC State Veterinary Hospital in April confused, cold and limp, and his symptoms rapidly worsened. Dr. Sarah Saylor, part of Leo's care team, helped identify a life-threatening condition that led to Leo receiving emergency brain surgery that night. "All the stars aligned" for the cat with the constellation namesake, she says.
PAIN PERCEPTIONS. Do chihuahuas or golden retrievers have higher pain thresholds? Dog breeds differ in pain sensitivity, but differences don't always match up with the beliefs people – including veterinarians – hold about breed-specific pain sensitivity. A new NC State study finds views of owners and veterinarians are often at odds.
HELPING HORSES. The NC State College of Veterinary Medicine, in conjunction with the Humane Society of the United States and the Raleigh Police Department, spent a day training law enforcement officers from across North Carolina on identifying and handling equine abuse. The all-day event drew more than 30 officers from across the state.
go.ncsu.edu/equineofficertraining
BENTO'S LUCKY BREAK. Bento the cat's cancer diagnosis arrived with more unwelcome news: His type of cancer was rare, and he needed another surgery to make sure the malignant cells were gone. But thanks to a grant from Petco Love and the Blue Buffalo Pet Cancer Treatment Fund sponsoring Bento's expert care, his owners could focus on Bento's recovery instead of its cost.
'A DEFINITIVE ANSWER.' For Vinny, a playful and curious horse, the new standing CT at the NC State College of Veterinary Medicine took the guesswork out of treating a serious infection. "It's so obvious on the CT, and it's just not obvious on the X-ray," the horse's local veterinarian says. Vinny's success story:
'IT'S SO PERFECT.' The new Immersive Clinical Experience in Oncology program at NC State has already changed the lives of its first two participants. The program was designed to help veterinary students from across the country explore important medical specialties they could pursue as careers. "Tuskegee doesn't have oncology as a specialty in its teaching hospital, so I knew I could take advantage of the resources here and then take back what I've learned to help others as well," says Savannah S. Simon, program participant. Read more:
SCHOLAR FOR A CAUSE. Second-year student Meg Mulder lost her beloved boxer, Kona, to lymphoma last year. NC State's Veterinary Scholars Program gave Mulder the opportunity to spend her summer researching an innovative treatment for the disease in a faculty lab. She was one of 22 students who got hands-on mentored research experience over 10 weeks, applying what they learned in class and the clinic in a supportive lab setting.
go.ncsu.edu/veterinaryscholarsprogram
FACULTY AND STAFF
"CANCER IS SPECIES AGNOSTIC." The V Foundation for Cancer Research celebrated its 30th anniversary with a gala featuring cancer researchers, including veterinary professor Matthew Breen, whose canine cancer research has shown important time-saving solutions for human research.
ON THE MOVE. Dr. Paula Cray is the new director of the NC State College of Veterinary Medicine's Global Health Program, whose mission is to examine global issues and advance knowledge in ways that improve human health, animal health and the environment.
OUTSTANDING! Dr. Natasha Olby, our world-renowned expert in spinal cord injury and neuro-aging in dogs, won the AVMA Career Achievement in Canine Research Award for 2023. Olby, also a professor of veterinary neurology and neurosurgery, has authored or co-authored more than 200 scientific papers, most recently sharing her research into neuro-aging and neurodegenerative diseases in dogs.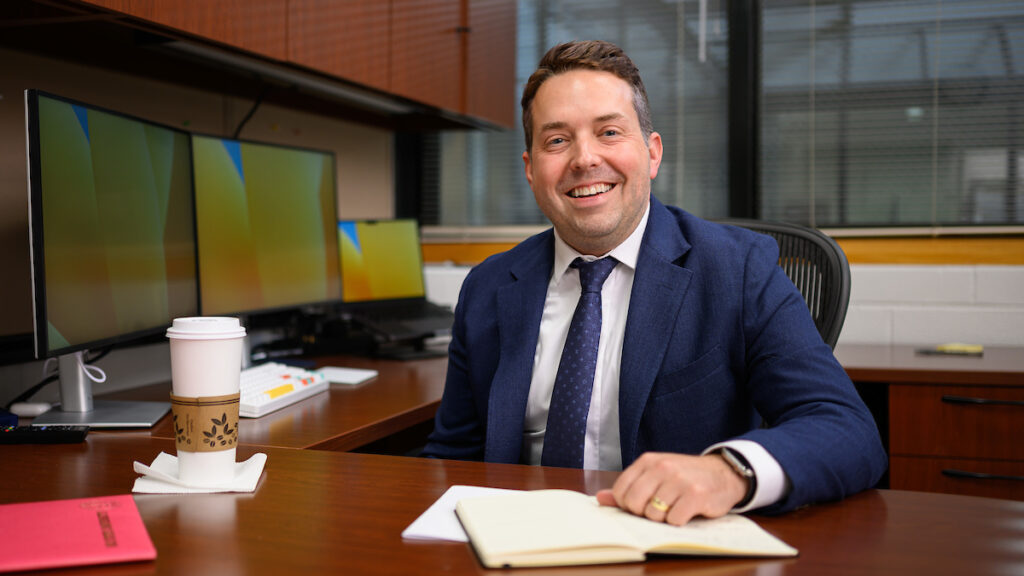 WELCOME, DR. STERN! Say hello to Dr. Josh Stern, our new associate dean of research. "I'm incredibly fortunate to return to NC State, where I spent the most formative years of my training, and to have the opportunity to join such a talented group of faculty members and industry leaders," Stern says.
TICK SEASON TALK. Dr. Ed Breitschwerdt, an NC State infectious disease expert and world-renowned researcher in tick-borne illnesses, recently shared his insights in a podcast with Tick Boot Camp, whose mission is to increase awareness about the diseases — particularly Lyme — advocate for better testing and treatment and promote prevention. Listen here: http://ncst.at/L0gR50PwcqR
STOP THE PRESSES. An NC State College of Veterinary Medicine study of whether low-dose radiation therapy could relieve the painful symptoms of Feline Idiopathic Cystitis in cats has been so successful that clinicians are ready to start offering the treatment at the NC State Veterinary Hospital.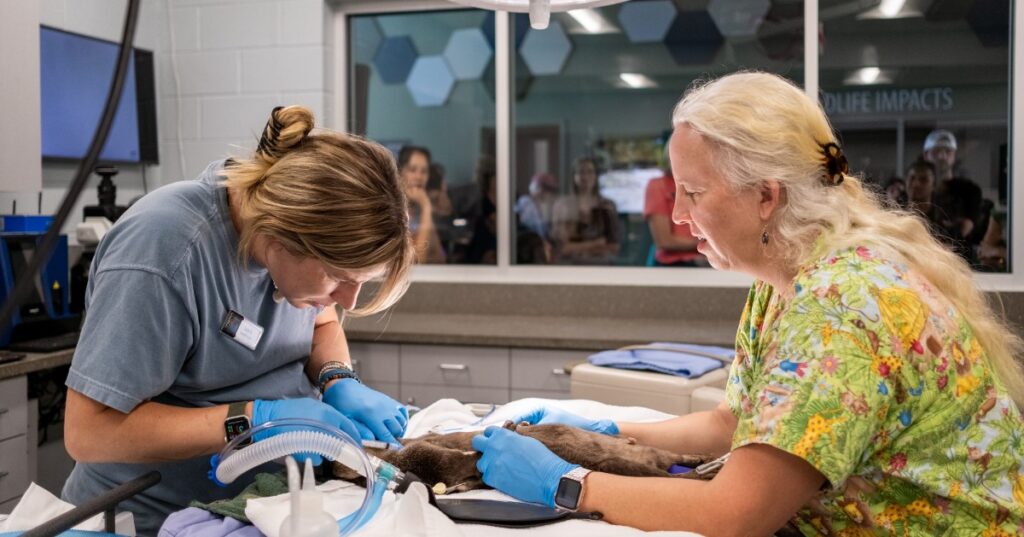 WHO YA GONNA CALL? The Greensboro Science Center went without a veterinarian until Dr. Taylor Gregory, an NC State graduate, took the reins last month. Dr. Tara Harrison, our zoo and exotics expert, provided care for the center's animals in the interim. Her cases ranged from an emergency otter situation to checkups for a baby hippo and red panda babies.
www.facebook.com/NCStateVetMed/posts/pfbid06FuLjYYLsQnzfspRKtHJqDCkndMADmzthfPzmUwXosrKHw3aY1roQizzu8vsZbkNl