Student Voice: An Unforgettable Lesson in Humanity
Alexandru Pop was eagerly awaiting an externship at an animal hospital near the North Carolina coast. Then Hurricane Florence struck.
It didn't stop him. His externship mentor's home turned into a supply distribution center and Pop's externship temporarily became into a two-week relief mission for the many animals impacted by the storm.
During that time, the fourth-year NC State College of Veterinary Medicine student from Asheboro developed a widened view of the power of veterinary medicine. He shares his story here.
Hurricane Florence relief was something I felt that I had to do and something that changed my entire outlook on veterinary medicine.
For several months I had an externship planned with Pineview Veterinary Hospital in Bolton, N.C., about 30 miles west of Wilmington, for one of my clinical rotations. When Hurricane Florence was forecasted, I began communicating with my externship mentor, Dr. Christine Long, about how the coast had been affected so far. She said many roads were washed out. It was unclear if I'd be able to make it there.  
NC State canceled classes and I watched news reports about how the storm was transforming our coast and impacting the lives of people living there. I saw the images of homes under water and the amount of flooding already taking place and felt compelled to get down there. Dr. Long's veterinary hospital was not accessible by road, but a vet truck was at her home and stocked with enough supplies for a few days. She had a plan to triage patients and head anywhere in need that we could get to. I made the decision to join her.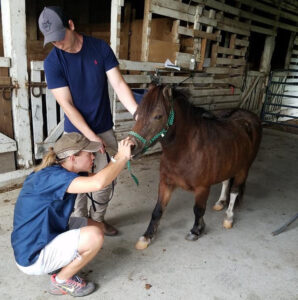 I drove down alone, using a combination of navigation apps. I spoke with police officers at road closures to let me through and waded through flooded streets to safely make it to Dr. Long's home in Chadbourn, N.C., about 60 miles west of Wilmington. For the next two weeks, her home served as a distribution center of supplies for relief efforts.
Initially, my time was spent taking supply inventory, planning routes to reach people and triaging animals. People began to call in emergencies. We saw several horses and mules that had been pulled from the flood waters. These animals had spent varying times in the flood water and many needed treatment for severe dehydration and hypoglycemia, having been stranded with no food for unknown amounts of time. We started frequently seeing pneumonia, skin lacerations and infections, eye and hoof injuries and abscesses.
The most incredible experience was working with Turtle Mountain Animal Rescue, a group based in North Dakota. We traveled by boat about 15 miles up the Cape Fear River to reach a group of stranded horses and alpacas that had been pulled into flood waters near Rocky Point, N.C. Many of them were unable to stand, severely dehydrated, hypoglycemic and suffering from infections.
This entire experience has filled me with overwhelming feelings of gratitude. I was thankful for the opportunity to help and for the kindness and understanding of the people we worked with. It was also filled with frustration. While we were able to help a lot, getting calls from people who lost their home, their belongings and their security and having to tell them there is no way to physically reach them is an exceptionally low feeling no matter how impossible the mission may be.
The light of humanity shined extremely bright. The massive volunteer support from the community made it possible to treat as many cases as we could reach. CVM Dean Paul Lunn personally drove a van loaded with donated supplies from the vet school to our location. That made a huge impression on me.
I learned to never underestimate the power of teamwork and organization as a group of complete strangers, with experience levels ranging from novice to expert, were able to examine, treat and vaccinate every single animal we put our hands on.
This experience has shown me how important it is to have proactive veterinarians in the community seeking out these groups and willing to sacrifice their time to help out. Without the leadership, expertise and time dedicated to these efforts by Dr. Long and the many people supporting efforts in the community, many of these animals would have continued to suffer.
It really showed me how dynamic and creative the veterinary profession can be outside of day-to-day practice responsibilities.
For two weeks, our days were long, usually working until well after dark, yet there was always a feeling we could do more. My time spent with the people of southeastern North Carolina will persist in my mind, but this is only the beginning.
As flood waters recede, the true toll of this storm is surfacing. I hope to have more opportunities to join these communities and continue to help them recover.
The effort to help people and animals in need is not over.
As we cope together with the devastation caused by Hurricane Florence, we can make a difference together, too. A donation to the CVM's Disaster Relief Fund will continue to help animals that have been rescued and sheltered. Thank you for your support.