Olivry Receives Lifetime Achievement Award for Groundbreaking Dermatology Career
Much of veterinary dermatology is a mystery, from the exact causes of itch to the most effective treatments. But for his entire career, Thierry Olivry has been one of the field's most ardent detectives.
At the NC State College of Veterinary Medicine, Olivry has dedicated his career to decoding the mechanisms behind itch-inducing atopic dermatitis and creating innovative ways to address an array of common yet pernicious skin conditions in animals.
Under Olivry's leadership, a skin lesion scale, the Canine Atopic Dermatitis Extent Severity Index, or CADESI was developed. A version of the scale is used in most atopic dermatitis clinical trials today.
Collaborating with Bruce Hammerberg at the CVM, Olivry pioneered the use of a biologic to target the antibody IgE as a way to delay atopic dermatitis relapse. One of Olivry's first clinical trials at NC State eventually led to the development and then approval of cyclosporine as Atopica, the first blockbuster medication specifically approved by the United States Food and Drug Administration to treat canine atopic dermatitis and later feline allergic skin diseases.
When you talk about advancements made in veterinary dermatology in the past 30 years, you often talk about Olivry's work.
Now, Olivry has received a Lifetime Achievement Award from the European College of Veterinary Dermatology.
"I was humbled by receiving this award, as it not only reflected achievements in one domain, like research, but in multiple areas including education, service to the ECVD and scholarly accomplishments," says Olivry. "This award might be the one closest to my heart."
That's because Olivry was one of the ECVD's first diplomates. He joined its board in 2004 and served as the organization's president for two years. He says he "grew up" as a clinician and researcher in the ECVD with some of his closest friends.
But by 1993, the year he became an ECVD diplomate, Olivry had already begun to carve out an impressive niche as a veterinary dermatology clinician-researcher.
He grew up in Paris and Orléans, France, and earned his docteur-vétérinarie, the French equivalent of an American DVM, in 1986 from the Université Paul-Sabatier in Toulouse, France. 
As a junior veterinary student, he decided to do a research project on autoimmune skin diseases in dogs. After his first externship with a dermatologist, he was hooked. At 27, he became one of the managing partners at the Clinique Frégis in Paris, then the only specialty veterinary practice in France. For several years, he received referrals in dermatology and internal medicine and helped develop this practice as one of the most successful in the country.
As he always wanted to know more — and discover more — Olivry sold his shares and started from scratch. He moved to the United States in 1991 for his dermatology residency at the University of California, Davis, earning a Ph.D. in comparative pathology 1997.
When you talk about advancements made in veterinary dermatology in the past 30 years, you often talk about Olivry's work.
He joined the NC State in 1994 as an assistant professor of dermatology at the CVM. He moved through the academic ranks and helped develop the service into one of the largest veterinary dermatology academic center in the world, with three faculty members, three residents and three on a support staff.
He  also had a five-year span as the medicine service chief at the CVM's teaching hospital, spent nine years as the assistant head for specialty services and six months as interim head of the Department of Clinical Sciences.
As a professor of immunodermatology starting in 2003, he has guided a generation of veterinary dermatologists at NC State.
Of the 20 dermatology interns, residents and graduate students who passed through the college's program since 1995, five have, or soon will have, a Ph.D., and 10 currently teach at universities in the United States, South America and Europe, says Olivry. Several are recognized world-leaders in their specialty. 
Twenty-five years ago, veterinary dermatology was almost solely a clinical specialty, says Olivry, with only a few dermatologists worldwide conducting laboratory research. One of Olivry's biggest impacts has been bringing translational research and evidence-based medicine into veterinary dermatology.
"I am happy to see that several individuals who trained at NC State carry that scientific spirit forward," says Olivry.
While serving as a clinician, Olivry was always a perpetually curious and innovative researcher. He was often able to apply what he learned in the veterinary hospital about atopic dermatitis and apply it directly to his research efforts. His research then informed his work at the hospital. 
Olivey has authored more than 260 peer-reviewed articles, described new autoimmune skin diseases in small and large animals and now expanded his research to focus on food allergies and neurobiology.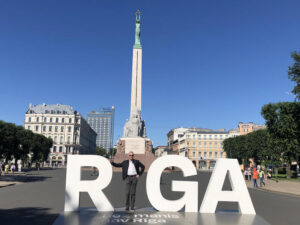 He's now at the beginning of another chapter. As an allergy researcher, Olivry began suffering from ever-worsening asthma due to animal allergies, eventually making life at a veterinary school impossible.
While still a part-time member of the CVM's Department of Clinical Sciences, Olivry now lives in Riga, Latvia, with his wife, Alla, a Latvian veterinarian who also practices dermatology. He is working on finishing projects and papers with CVM residents and supervises two Ph.D. students.
He is also writing more than ever and still has papers regularly accepted by top medical journals.
 "I still feel connected with my colleagues and students at NC State," says Olivry. "I want to thank Dean Paul Lunn, Associate Dean Kate Meurs and now-former Department of Clinical Sciences head Lizette Hardie for their continuous and positive support.
"They help me remain NC State red through and through and be a part of this community as the first and only member of the Latvian branch of the NC State CVM." 
~Jordan Bartel/NC State Veterinary Medicine