NC State Team Publishes Groundbreaking Bearded Dragon Cancer Study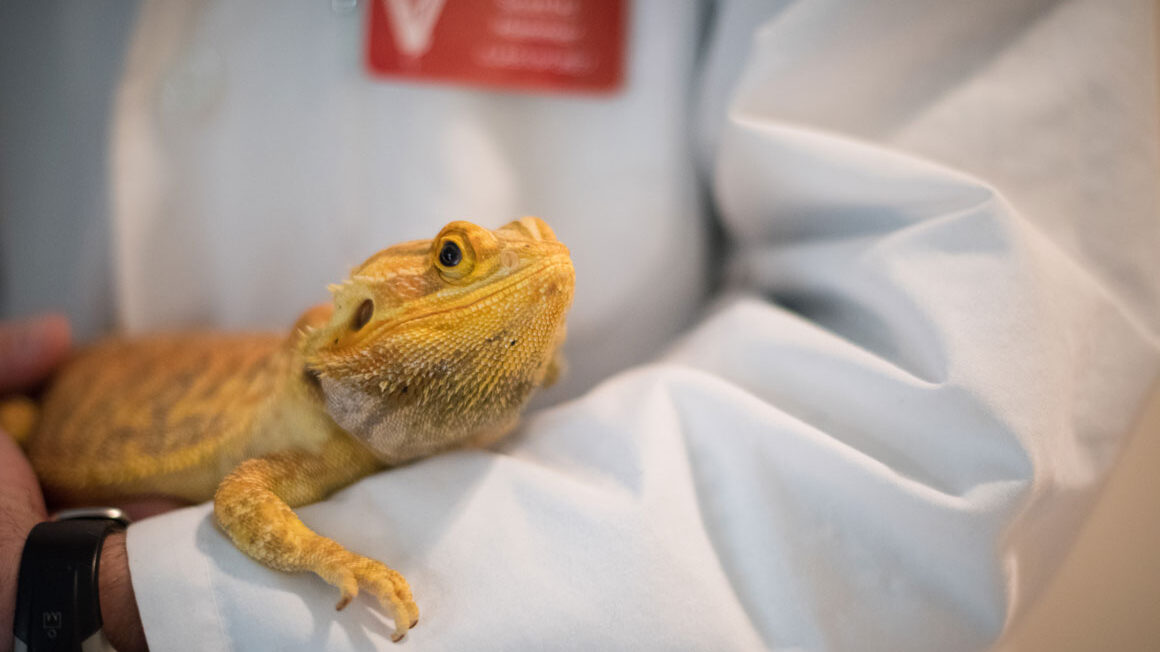 A newly published NC State College of Veterinary Medicine research paper sheds much-needed light on cancer treatments for bearded dragons. It is the first paper published on the topic.
The NC State Veterinary Hospital team — Caitlin Hepps Keeney, Tara Harrison, Joanne Intile, Cory Sims and intern Cher Hung — studied a group of five bearded dragons treated for leukemia at the hospital last year between Sept. 28 and Oct. 19. Hepps Keeney, a resident in the hospital's exotic animal service, is the lead author. 
The Journal of the American Veterinary Medical Association published the study in its April 1 issue, available in both hard copy and online.
The owners of all five reptiles were recipients of financial assistance from Petco Love (formerly the Petco Foundation) and Blue Buffalo Cancer Treatment Fund, which helps families defray the cost of advanced cancer treatment for companion animals and supports development of more effective treatment of animal cancers at the NC State Veterinary Hospital. 
In addition to bearded dragons, the fund has assisted the owners of other exotic pets that have been treated at NC State, including snakes, rabbits, ferrets and a variety of birds.
The undertaking of five similar cases by the same medical team provided a unique opportunity to do a comparative study of the effectiveness of various therapies in the species, says Harrison, an assistant professor specializing in exotic animal medicine. 
All of the bearded dragons achieved some level of remission, says Harrison. She says bearded dragons are increasingly popular as pets. 
Harrison says that the life spans of the five animals were all increased, The study also determined it is better to administer medications orally to bearded dragons rather than by IV.
"There's very little knowledge in this area," Harrison says. "This study has already spurred another study on how the surface area of the bearded dragon relates to the dosage."
Harrison says the research would not be possible without assistance from the Petco Foundation and the Blue Buffalo fund. She also credits the owners with the success of these treatments. 
"We're very grateful to the owners for their trust and that they were willing to try," she says. "It did add quality time for these animals."
Harrison says that as more is learned about the prevalence of these diseases in bearded dragons, fewer of them will be under-diagnosed. The authors hope publishing this initial paper will result in more concerted efforts to learn more about how to diagnose and treat cancer effectively in bearded dragons. 
"They're not 'just sick,'' she says. "See a veterinarian, draw blood and have it evaluated by a clinical pathologist. We're also concerned that leukemia and other cancers could be becoming more common in these animals."
~Steve Volstad/NC State Veterinary Medicine