What Can You Learn from a Bearded Dragon?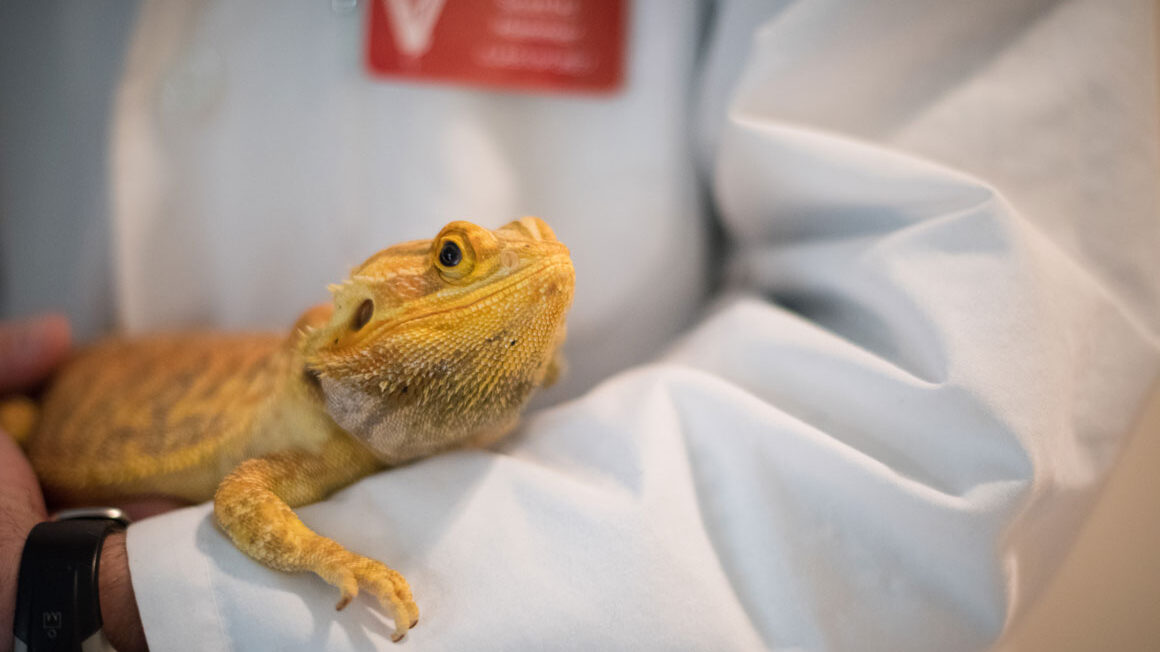 When a beloved pet gets a cancer diagnosis, it's almost like having a sick family member. And yet what happens next can vary depending on the type of animal involved. The reality is that the most common pets, like dogs and cats, are more likely to receive medical treatment than what veterinarians refer to as exotic animals — birds, reptiles and small mammals.
As a result, there is simply less knowledge and understanding of what the most effective treatments and probable outcomes are for exotic animals affected by cancer. Quite often, cost is one of the prohibitive factors influencing an owner's decision about whether to have an exotic pet treated for cancer.
A three-year grant* from the Petco Foundation to the North Carolina State University College of Veterinary Medicine (CVM) seeks to increase the understanding of how to treat cancers in exotic animals by defraying the cost of treatment, thus removing a significant roadblock to gaining practical experience in this area.
Which brings us to the case of Kaleb, a 4 year-old Pogona, more commonly known as "bearded dragon" lizards, which are native to Australia. When Tara Harrison, an assistant professor and a clinician at the CVM's Exotic Animal Medicine Service, first saw Kaleb, he was suffering from an undifferentiated sarcoma, a type of cancer that typically affects bones and connective tissues. Kaleb underwent surgery to remove a tumor from his chest in November at the NC State Veterinary Hospital, but he has an aggressive cancer that has recently reappeared.
That is why Lisa McKnight — Kaleb's owner and a young veterinarian working as an intern at a clinic in Charlotte — is bringing him back to NC State, this time for a series of radiation treatments. Then, after that … well, that remains to be seen. Part of the reason for Kaleb's treatment is to learn more about what works with small, exotic animals. Decisions about his course of treatment will be made by observing how his case progresses.
Because of her own professional status as a veterinarian, we asked McKnight how much she was motivated by concern for her pet and how much by her interest in seeing the advancement of medical science. We learned that veterinarians love their pets as much as anyone. She reported being "60 to 70 percent" motivated by wanting Kaleb to be helped and "30 to 40 percent" wanting the experience gained from Kaleb's treatment to help increase the general level of knowledge about how to treat exotic animals with cancer.
In fact, there is no doubting McKnight's passion for animals in general. She said that growing up in Baltimore she always wanted a pet, but her parents were not enthusiastic about the idea. Today, she is not only a vet with a particular interest in exotic animals, but the owner of four dogs, six cats, three rabbits, two guinea pigs, a skink, a ball python and a gekko in addition to Kaleb. She must travel two-and-a-half hours each way when she brings the bearded dragon to NC State for treatment (often with Kaleb riding on her shoulder — "he's comfortable there," she explains). This is a person of true commitment.
It pairs well with Harrison's commitment to learn more about the most effective ways to handle cases like Kaleb's.
"What we can learn from cases like this one is how the disease behaves, what the adverse effects might be, and the life span after treatment," Harrison says. She is actively involved in research to increase understanding worldwide about causes, treatments and outcomes in exotic animal cancer cases, as well as the risk factors of development of neoplasia. Through papers published in academic journals and information contributed to an international database, her work at NC State — and enabled by the generous grant from the Petco Foundation — will advance the field and, ultimately, improve the chances of survival in reptiles, birds and small mammals.
Translated into individual terms, that could mean that Kaleb might continue riding around contentedly on McKnight's shoulder for many more years to come.
*The Petco Foundation has awarded a three-year grant totaling $350,000 to the NC State College of Veterinary Medicine for the purpose of covering cancer treatment costs for small companion animals receiving care from the NC State Veterinary Hospital.  Covered species include birds, fish, reptiles and small mammals, such as guinea pigs and rabbits.
~Steve Volstad/NC State Veterinary Medicine