Animal Care
For a Critically Anemic Max, 'This Procedure Saved His Life'

NC State's extensive nephrology and urology expertise comes to the rescue of a North Carolina family's adored dog.
By Burgetta Eplin Wheeler
Lenny and Sylvia Chin are so eager to explain how the NC State College of Veterinary Medicine saved the life of their dog Max that they both get on the phone from their home in Waxhaw, North Carolina, and try to talk at once.
"It was critical," Sylvia says of the day in January when Lenny hurried almost three hours to Raleigh with Max, a miniature Australian Labradoodle that had had numerous episodes of unexplained blood in his urine. "It was at the point we were going to have to put him to sleep."
"He was suffering," Lenny interjects. "He was in pain. At that moment I thought he was just going to go. That morning I had rushed him back to the hospital, and they actually called NC State to see if they could take him in. I rushed him to NC State the same day."
"I got his bags packed fast," Sylvia adds as Lenny continues, "Dr. Tanner Slead was the performing clinician."
"This procedure saved his life," Sylvia cuts in.
The procedure, called sclerotherapy, is a minimally invasive technique that required special equipment and a level of expertise in nephrology and urology that could be found in North Carolina only at the NC State College of Veterinary Medicine. The college is at the forefront of veterinary nephrology and urology medicine in the United States as the AVMA American Board of Veterinary Specialties elevates the field to a specialty college.
"Max's condition is such a rare one," says Slead, the first fellow in nephrology and advanced urological procedures at the College of Veterinary Medicine. "Not a lot of primary veterinarians have it on their list of differentials. To diagnose it, you have to endoscopically identify which ureter, and therefore which kidney, the blood is coming from, and unless you have that equipment, you cannot make a definitive diagnosis without open surgery."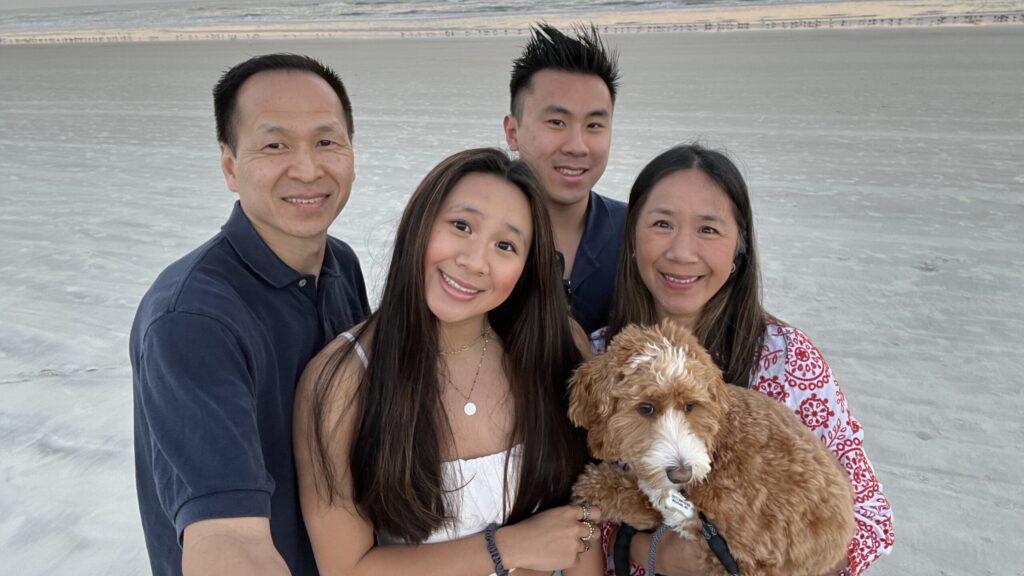 Max, born in November 2020, was a Christmas gift that year for the Chins' teenage daughter. After Max was neutered in June 2021, he began to have noticeable blood in his urine, and the family's local veterinarian treated him for a urinary tract infection, the Chins say.
After Max's second or third urinary tract infection, bloodwork showed his blood oxygen levels were abnormally low, and Max was referred to a local veterinary hospital, where he stayed a couple days and had a blood transfusion.
"They kind of gave us a very grim outlook" but no official diagnosis, Sylvia Chin says. When Max showed few symptoms over Christmas 2021, the Chins took him and their two children on a beach vacation.
"As soon as we got back, almost out of nowhere, he took a turn for the worse," Lenny Chin recalls. "He was not himself. He could not urinate."
The Chins took Max back to the local hospital.
"He got discharged," Lenny says. "They were thinking we'd just bring him home, see how he does. He was under so much medication, antibiotics, herbal medicine."
Sylvia breaks in: "The plan was to get him stabilized, and either he'll get better miraculously or they were talking about removing his kidney."
Wanting to do more for the sweet dog she calls her third and favorite child, Sylvia Chin started scouring the internet for options, typing in Max's symptoms and seeing information about sclerotherapy, which uses a scope to chemically cauterize blood vessels. Their veterinarian told the Chins only NC State could perform the procedure.
When Max again ended up at his local hospital in January 2022 because of blood clots in his urethra, his owners pleaded to have him seen at NC State, and on Jan. 20 he was referred to the NC State College of Veterinary Medicine.
"His case was really severe," Slead recalls. "He had already bled so much that he presented with severe anemia, required a transfusion and was found to have a large clot in his bladder, which can ultimately cause an obstruction and lead to kidney failure."
Cystoscopy, which is a special type of scope used to evaluate the urinary tract, showed that Max was suffering from idiopathic renal hematuria, which is characterized by severe bleeding from the kidneys with no identifiable cause.
To Slead, Max's case perfectly illustrates how the recent elevation of the nephrology and urology field to a specialty college will just continue to improve medical knowledge and patient care.
"Having a new college like this means, when there is a diagnosis in question or a problem involving the urinary tract that general practitioners don't have experience with, we're a very obvious place to go and the obvious people to ask," Slead says. "It cuts down a lot on the middlemen. You can go straight to people who have that expertise and can get a diagnosis, and therefore treatment, sooner."
And for Max, that treatment saved his life.
"Before we could even do the procedure to cauterize the bleeding vessel, we had to dissolve the clot in his bladder," Slead says. "He was hospitalized here, received a transfusion and had special medicine put into his bladder to dissolve his clot. We then used a combination of techniques to diagnose the main problem, which then required a high level of experience along with specialized equipment to actually perform the procedure to fix it. This is a classic case of why we need urologists and nephrologists."
Max has an excellent prognosis at this point, Slead says. There's no guarantee the problem won't recur, but now everyone knows sclerotherapy will address it. Since recovering from the surgery in January, Max has been a remarkably active and fun pup, the Chins say.
"He's as healthy as you can get now," Sylvia Chin says. "He runs around. He plays catch."
Lenny Chin interjects, "He loves to go outside. He loves everyone. He loves other dogs."
Sylvia Chin lets a beat of silence pass.
"He's my buddy," she says. "He's Mama's boy. He waits for me to eat breakfast. He waits for me to go to sleep. I love him."