Animal Care
April News and Updates: A Feline Center, a Standing CT and a Heartfelt Thank You from Across the Years
Stay up to date on how the NC State College of Veterinary Medicine is having a huge impact, from creating a center to focus on feline care to installing a standing CT for horses to being recognized for major awards.

IN THE SPOTLIGHT
CAT-FOCUSED CARE. In an important national initiative, NC State has created a Feline Health Center, putting its considerable feline expertise under one umbrella. The new center has four missions: clinical service, research, community outreach and education. It also aims to make the NC State Veterinary Hospital even more feline-friendly. "Cats are a unique species, and cat lovers expect the veterinary profession to be able to address their specific health and behaviors," Dean Kate Meurs says. READ MORE HERE.
'STILL KICKING.' In 2010, cardiologist Terri DeFrancesco pulled 18 worms from the heart of a tiny Chihuahua named Brandi, using a procedure that few facilities other than NC State provide. The trucker who had rescued Brandi from a Louisiana highway sent the doctor a heartfelt thank you and an update. "That's an amazing thing," DeFrancesco says. "This dog was close to death when we got her." READ MORE HERE.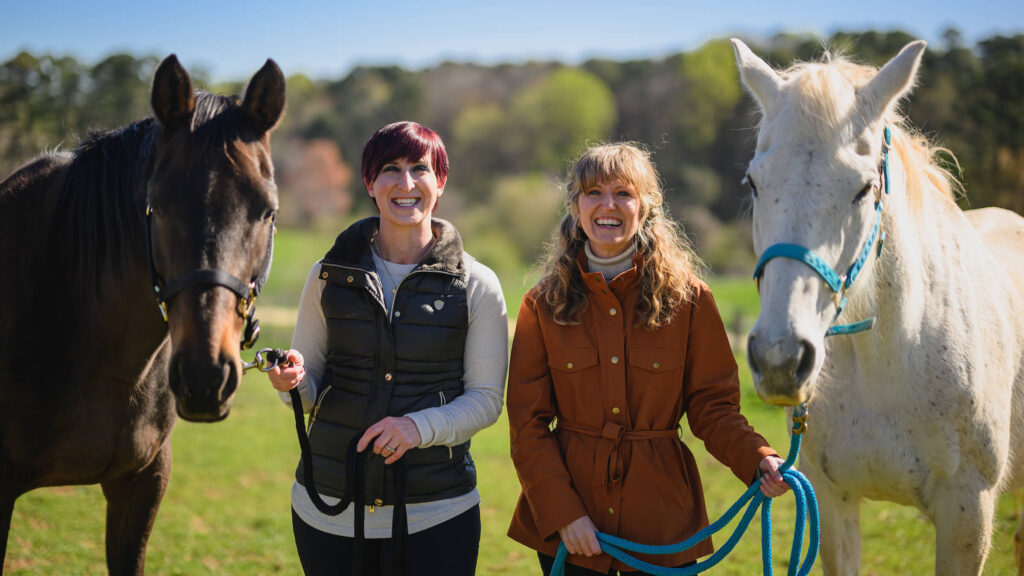 HELP FOR THE HERDS. The NC Horse Council has awarded a grant to NC State College of Veterinary Medicine to help the college care for its on-campus horses that aid us in advancing equine health and translational medicine. "We are thrilled," says Dr. Lauren Schnabel, left, who studies equine arthritis, tendon injury and other orthopedic diseases. Dr. Katie Sheats , right, focuses on equine asthma research. READ MORE HERE.
FASCINATING FORENSICS. A study led by NC State found that forensically relevant information from human DNA can be retrieved in household dust — 90% of the time for residents. The work could be a way to help investigators find leads in difficult cases. Kelly Meiklejohn, assistant professor of forensic science and coordinator of the forensic sciences cluster, is corresponding author of the study. READ MORE HERE.
WAY TO BEE TIMELY. Bees are essential to a third of the world's food production and have been dying off over recent years. As a result, the FDA declared honeybees as food animals and began requiring veterinary oversight of antimicrobials used in treating them. In April, NC State College of Veterinary Medicine offered students a chance to learn about bees in a selective where they learned, among other things, adult honeybee anatomy and physiology, bee sting therapy, hive inspection techniques and common diseases and pests among bees. READ MORE HERE.
MAKING A SPLASH. The College of Veterinary Medicine hosted the American Kennel Club Diving Dogs Premier Cup event. Event organizers chose NC State to correlate with the 40th anniversary of Jimmy V's 1983 National Championship win. The event will help fund cancer research.
PHOTOS: https://go.ncsu.edu/divingdogsgallery
VIDEO: https://www.youtube.com/watch?v=BDSv_AKOg7Y
FACULTY AND STAFF
REWARDING EXCELLENCE. Two NC State College of Veterinary Medicine professors received prestigious awards from the NC State Alumni Association. Dr. Duncan Lascelles received the Distinguished Graduate Professor Award. Dr. Anthony Blikslager received the Outstanding Research Award.
READ MORE: https://go.ncsu.edu/cvmalumniawards
WAY TO GO! Laurianne Van Landeghem and Caroline Laplante, both assistant professors in our Department of Molecular Biomedical Science , were among 25 NC State University leaders named to the 2022-23 class of Goodnight Early Career Innovators for STEM research. The 25 faculty selected across the university will receive $22,000 ­for each of the next three years to support their scholarship and research endeavors.
READ MORE: http://ncst.at/nw1e50Nw2i9
SUSTAINABILITY STARS. Dr. Greg Lewbart and the Turtle Rescue Team won the 2023 Organization Award from the NC State Sustainability Office. The team provides free medical, surgical and husbandry services to more than 300 wild turtles, reptiles and amphibians each year in the hope of releasing them back into the wild.
READ MORE: https://sustainability.ncsu.edu/blog/2023/04/18/2023-nc-state-sustainability-awards/
DONORS AND SUPPORT
GAME-CHANGER: The NC State Veterinary Hospital installed standing CT equipment that allows our equine experts to scan the horses without having to put the animals under anesthesia. "It's fantastic," says Dr. Timo Prange, associate professor of equine surgery. "It will allow us to understand a number of problems that we also see following surgeries on the head much better."
STORY: https://go.ncsu.edu/standingct
VIDEO: https://go.ncsu.edu/standingctvideo
STUDENTS
RECOGNIZING EXCELLENCE. The NC State veterinary medicine community gathered at the Talley Student Union for the 39th Annual Awards Banquet. Standing ovations. Doctors in beekeeping gear. And so many smiles.
LIST OF WINNERS: https://go.ncsu.edu/cvmawards2023
PHOTO GALLERY: https://go.ncsu.edu/cvmawardsgallery23
WHITE COAT DAY. As veterinary students transition from third year to fourth, they move into the clinical part of their education and participate in the White Coat Ceremony — the symbol of professionalism and empathy in the practice of medicine. It's a big day.
PHOTO GALLERY: https://go.ncsu.edu/white-coat-ceremony-co2024