Awards and Honors
2 Veterinary Professors Receive Alumni Association Awards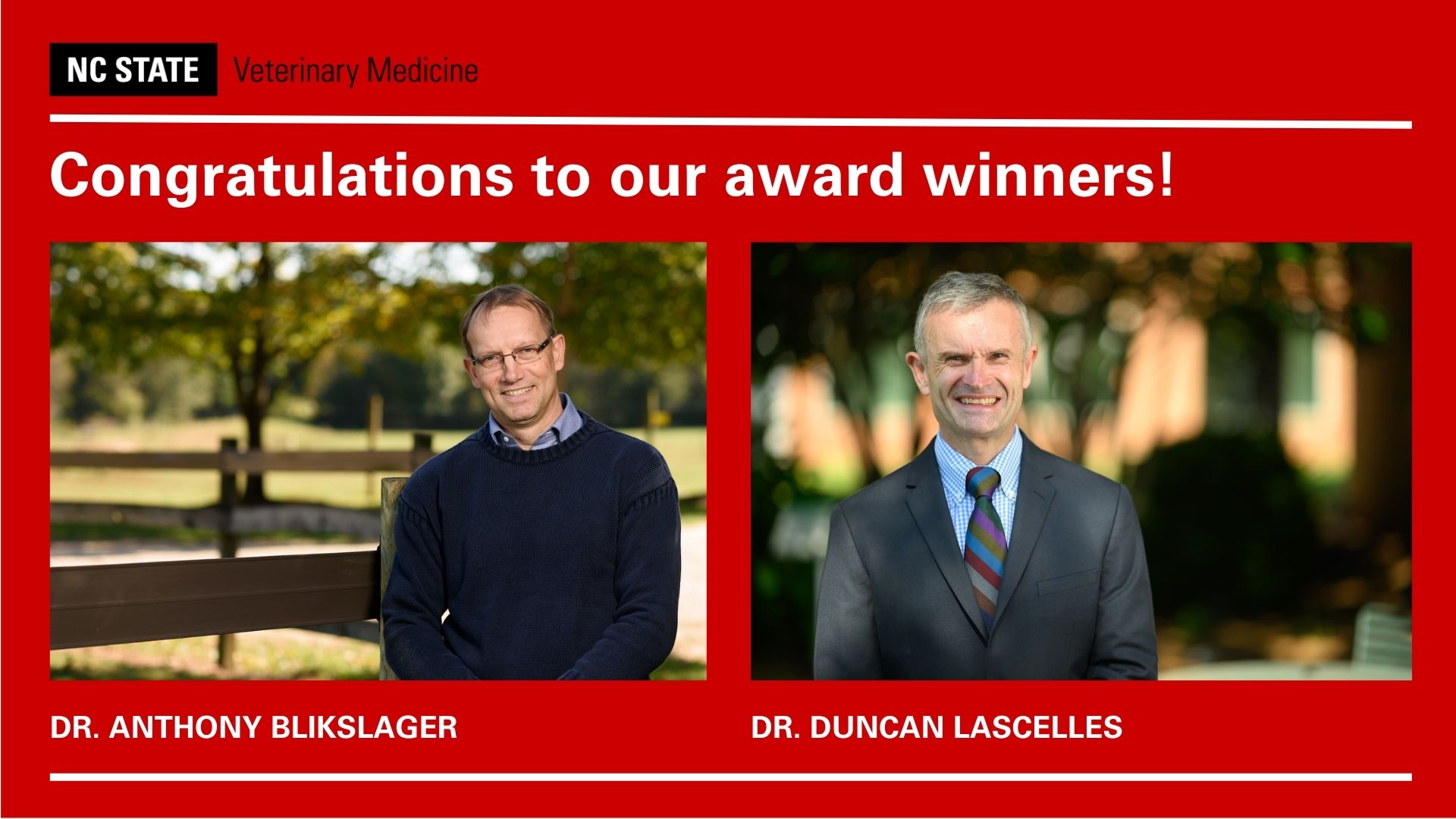 The NC State Alumni Association has recognized two longtime College of Veterinary Medicine professors with prestigious awards for 2023.
Dr. Duncan Lascelles, professor in small animal surgery and pain management, was given the Distinguished Graduate Professor Award, and Dr. Anthony Blikslager, professor of equine surgery and head of the Department of Clinical Sciences, received the Outstanding Research Award. Blikslager, who also was inducted into the NC State Research Leadership Academy, was recognized for being a leading research scholar and faculty mentor.
"Dr. Blikslager is extremely deserving of this recognition and award for his significant contributions to animal and human health and his dedication to faculty mentorship," says Kate Meurs, dean of the NC State College of Veterinary Medicine.
Lascelles' award recognizes outstanding graduate-level teaching and comes with a $4,000 stipend.
"This is an area that Dr. Lascelles has been extremely dedicated to for many years," Meurs says. "We are so grateful for his dedication and contributions to training the next generation who will change animal and human health through discovery."
Each spring, the Alumni Association recognizes the university's top faculty members who consistently demonstrate excellence in NC State's core values: teaching, research and extension.
Money for the awards comes from the North Carolina license plate program. When alumni buy specialized NC State license plates, a portion is returned to the Alumni Association to reward faculty.
Deans, department heads, peers and students can nominate people for the awards, for which the criteria are rigorous. Five committees make the final selections from among numerous nominations.
"I am so proud to have two of our faculty members recognized by the leadership of this university," Meurs says. "We have more recognitions coming in the next few weeks that we will announce after the formal campus ceremonies so stay tuned to help celebrate!"