Strength in Diversity: Jones Awarded First Hanner Scholarship
Ebony Jones and Tracy Hanner grew up 800 miles and a generation apart, but they understand each other.
 They both knew early that they wanted to be veterinarians, but never saw one that looked like them. In Chatham County in the 1960s, Hanner endured crushing taunts and jeers in high school before desegregation. Growing up in a military family, Jones thought the diversity she saw in her classmates in elementary school in Detroit was normal. When she got to college in North Carolina and saw differently, it was a culture shock.
 But were both told that they could do whatever they put their mind to and didn't let anyone tell them differently, even when that voice was sometimes their own self-doubt. Now they also share a common drive — making veterinary medicine more inclusive.
 That has been Hanner's mission during his entire career and still is. It's work that Jones began as an undergraduate, continues to do at the NC State College of Veterinary Medicine and is committed to doing after she graduates in 2022.
 "There are not many people of color in veterinary medicine, so even before I came to veterinary school that was what I had in mind — giving children the mindset that they can do this," says Jones. "They can do it because I'm here. I'm doing it."
As the first recipient of the Tracy Hanner DVM Scholarship, Jones is helping to pick up Hanner's mantle. As the CVM's first Black graduate in 1986, Hanner, while working as a professor at North Carolina Agricultural and Technical State University, has advocated for diversity and tangible change at both his alma mater and within the veterinary profession for decades. 
Now, it's Jones' turn. The Hanner scholarship is the third at the CVM to support underrepresented minority students. Minority representation has increased at the CVM since Hanner graduated, with an average of about 25% in each class since the class of 2018. In the past 15 years, the number of underrepresented minority students in veterinary medicine has increased 11%, but a recent survey found that 80% of veterinary students in the United States are white.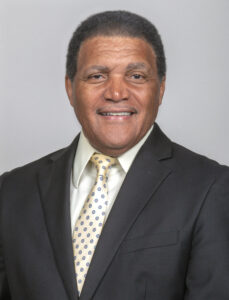 During this year's Juneteenth, when the CVM pushed to endow the scholarship that was launched by the North Carolina Association of Minority Veterinarians, it took just one week to reach the initial $50,000 endowment goal.
Scholarships are important, but not the sole solution. It takes a certain kind of spirit to  change hearts and minds to make lasting change. It's a spirit Hanner and Jones share. It takes a person like Hanner to inspire Jones. Lasting change means Jones needs to inspire others.
"I want to be in that role of a mentor as a supporter of others," says Jones. "Without that I might not be where I am right now," says Jones.
That's another thing Hanner and Jones share — strong mentors. For Hanner, it was Alfreda Johnson Webb, the first Black woman to graduate from a veterinary school and the namesake of the CVM's first scholarship for underrepresented minorities, also created by the NCAMV.
For Jones, it was Shweta Trivedi, a teaching associate professor of animal science at NC State. Trivedi is also director of the college's Veterinary Professions Advising Center, or VetPAC, which supports undergraduates focused on attending veterinary school.
Through VetPAC, Jones first visited high schools to talk to students about veterinary medicine with students, and she especially reached out to students of color.. Trivedi met Jones when she enrolled in her physiology lecture and an anatomy lab, where her grades placed her in the top 2% of the class.
"I remember asking her if I could use her short answers in the physiology midterm key as an example of student answers," says Trivedi. "She was so thorough. She is very poised and mature for her age, even under stressful situations. I am thrilled for Ebony and very proud of her."
Trivedi worked closely with Jones as she prepared to apply to veterinary school. She helped her become part of the United States Department of Agriculture-National Institute of Food and Agriculture's Multicultural Scholar Program. 
 There are not many people of color in veterinary medicine, so even before I came to veterinary school that was what I had in mind — giving children the mindset that they can do this. They can do it because I'm here. I'm doing it. 
As a MSP Scholar, Jones participated in a South Africa study abroad course in wildlife management and conservation that Trivedi teaches. Trivedi watched as Jones immersed herself in hands-on opportunities as she contributed to southern white rhino translocations.
When Jones became a member of the CVM class of 2022, it was Trivedi who presented her with her white coat before classes began. 
"It really helped me to see someone who is different from the majority in the veterinary profession," says Jones of Trivedi. "She really motivated me to pursue my veterinary degree. No one had ever given me those types of resources. I wish I had met her earlier."
When Jones transferred to NC State as a sophomore following a year in community college in Missouri, the change was jarring and overwhelming at first; she often felt like the only person of color on campus. When she applied to veterinary school, she told herself she wasn't going to let that feeling stop her from her life's next step. 
Then she met Allen Cannedy. The CVM's director of diversity and multicultural affairs and a close friend of Hanner's, Cannedy became Jones adviser.
"He's there not just for minority students, but for everyone," says Jones. "He'll invite you over to his house. If you ask, he'll do anything pretty much to help you out.
Hanner has also made an impact on Cannedy. Cannedy, who joined the CVM in 1995, worked with Hanner to recruit students from North Carolina A&T to come to the CVM. He shared Hanner's drive to make the makeup CVM classes better reflect the real world. 
Like Hanner, he understood how important he was to students, especially minority students, and how important it was to change the game and create scholarships like the one in Hanner's name. 
"Ebony is the model representative for the Tracy Hanner Scholarship," says Cannedy. "It is great to see it go to someone who is so deserving. "Ebony has been a very successful student and will be a wonderful professional. I look forward to hearing about the great things that she will accomplish in our profession."
While at the CVM, Jones has continued to find support from faculty and fellow students. She joined the group Veterinarians as One Inclusive Community for Empowerment, or VOICE, which raises awareness of socio-cultural issues within the veterinary field and promotes the profession to young students, especially those from underrepresented groups. 
Last year, she enrolled in the CVM's first course dedicated entirely to diversity and equity in veterinary medicine.  
"I didn't know what to expect going into it, but I'm glad I took it because it's not just about being African American," she says. "It's about people who think differently from any one of us, people who don't necessarily live their life the same as I do. And I think that's important to realize."
During the course, she met Andrea Gentry-Apple, a 2015 CVM alum and a teaching assistant professor of animal science at A&T. Hanner was the first Black veterinarian Gentry-Apple met when she enrolled at A&T as an undergraduate in 2007. She now mentors her own students and regularly comes to the CVM campus to talk about her experiences as a student.
"The Tracy Hanner Scholarship being awarded is a great accomplishment for the NCAMV, the NC State CVM, NC State community and, above all, the students," says Gentry-Apple. "This scholarship is a huge step in a greater goal of promoting diversity and inclusion, as well as making it a little easier for students to accomplish professional goals."
Jones' goal is to open her own practice in Raleigh, which now feels like home, she says, It's also where she wants to raise her 2-month-old daughter, Naomi.
And it's where so many children will soon be able to see a veterinarian who looks just like them.
~Jordan Bartel/NC State Veterinary Medicine
Support diversity and inclusion at the CVM and in veterinary medicine by making a contribution to the the Tracy Hanner DVM Scholarship during NC State's Day of Giving on Sept. 16. Give here: https://dayofgiving.ncsu.edu/campaigns/tracy-hanner-dvm-scholarship.