NC State Veterinary Medicine Research Roundup, January 2022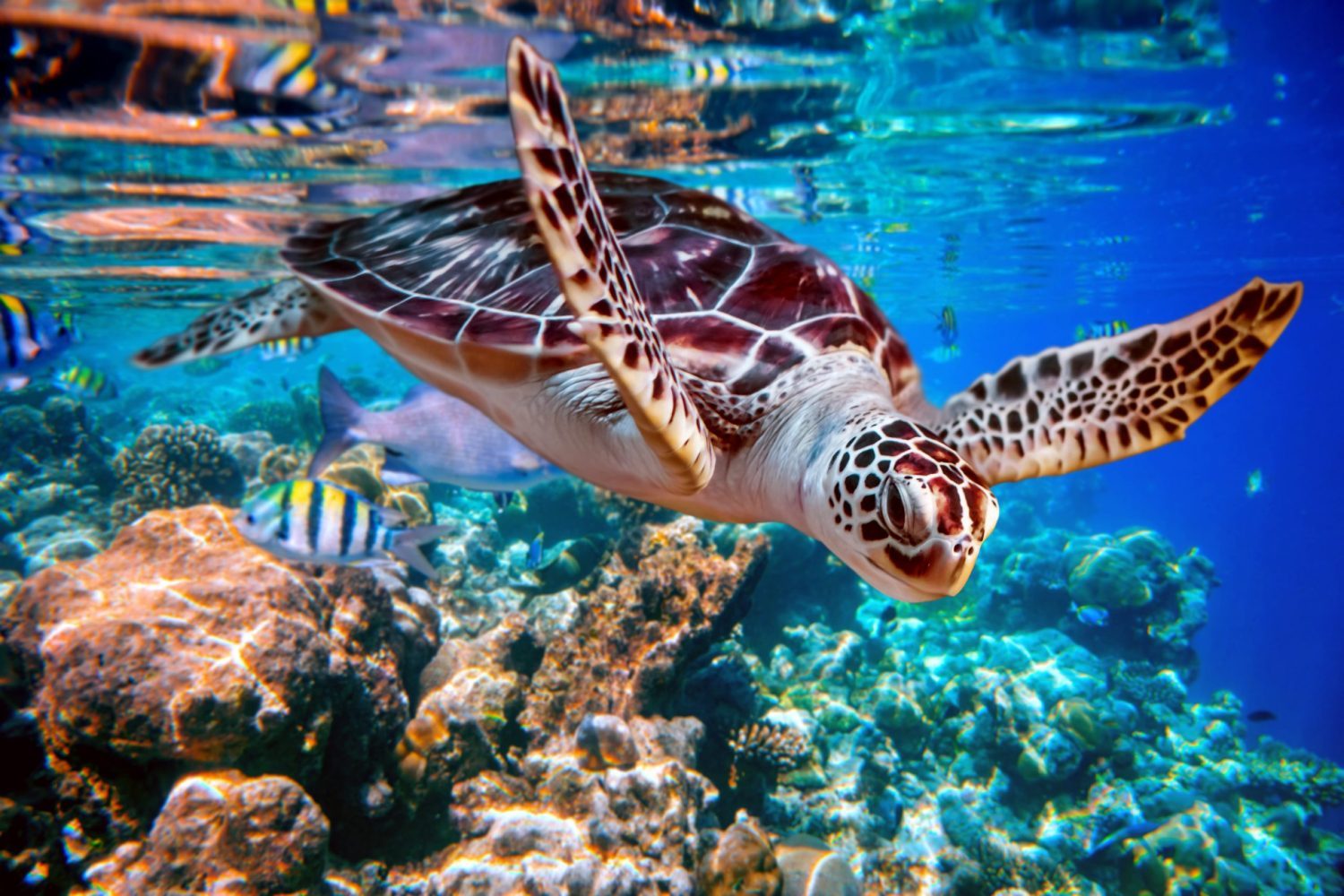 A look at some of the latest published studies from the CVM.
Blood Values in Loggerhead Sea Turtles Restrained for Health Exams
Sea turtles are often restrained manually for brief periods during veterinary evaluation and care in rescue, rehabilitation, research and aquarium settings. Blood gas values and lactate are routinely evaluated during triage of sea turtles, and lactate clearance is of prognostic significance in cold-stunned individuals. Venous blood gas and lactate values were tested in 16 juvenile loggerhead sea turtles (Caretta caretta) before and after manual restraint for a 15-min routine veterinary examination.
The results suggest that clinicians should evaluate blood gas values and lactate at the beginning of health evaluations and interpret serial lactate values in sea turtles with caution, because even short periods of manual restraint can induce lactic acidosis and considerably influence these values and lower oxygen levels in the blood.
Authors of the study, published in the Journal of Zoo and Wildlife Medicine, include Alissa Mones, Erika Gruber, Greg Lewbart and Craig Harms.
Read the study here https://pubmed.ncbi.nlm.nih.gov/34998289/
Clinical Trial Testing New Treatment for Canine Separation Anxiety
Separation anxiety (SA) is among the most common canine behavior disorders and affects quality-of-life for dogs and their owners. Dogs with SA show signs of anxiety during absence or perceived absence of their owners. While psychoactive medications are often helpful for treating SA, dog and human factors may limit their utility. This study explored the efficacy of a pulsed electromagnetic field (PEMF) device for treatment of canine SA.
Owners treated their dog with the device twice daily for 6 weeks, completed weekly questionnaires, and noted adverse events. Forty client-owned dogs with moderate to severe SA completed the study.
This study supports the efficacy and safety of this PEMF device for treatment of SA in dogs.
Authors of the study, published in Frontiers in Veterinary Science, include Katherine Pankratz, Carrie Emke, Brianna Johnson and Margaret Gruen.
Read the study here https://pubmed.ncbi.nlm.nih.gov/34988140/
Evidence of sheep and their environment as important reservoirs of multidrug resistant pathogens
The increase in antimicrobial-resistant (AMR) foodborne pathogens, including E. coli and Salmonella in animals, humans, and the environment, is a growing public health concern. Among animals, cattle, pigs and chicken are reservoirs of these pathogens worldwide. This study investigates the prevalence and antimicrobial resistance from sheep and their environment in North Carolina.
The study reaffirms that sheep and their environment act as important reservoirs of E. coli and Salmonella in the U.S. Further studies are required to determine associated public health risks. The study was published in the International Journal of Food Microbiology.
Study authors from the CVM include Nigatu Aklilu Atlaw, Shivaramu Keelara Veerappa, Maria Correa, Lyndy Bleu Harden, Sid Thakur and Paula Cray. Also contributing was distinguished alumnus Wondwossen Gebreyes.
Read the study here https://pubmed.ncbi.nlm.nih.gov/34990883/
Comorbidity of ectopic thymoma-associated exfoliative dermatitis in a cat
CVM Associate Professor of Dermatology Petra Bizikova is one of three authors of a study in which an 8-year-old cat was presented with scaling, crusting and patchy hair loss. A thymoma, a cancer of the thymus gland, was discovered on necropsy. This case highlights the necessity for thorough investigation of any case of feline exfoliative dermatitis and patchy hair loss for the presence of thymoma.
Conclusion: Comorbidity of exfoliative dermatitis in a cat should prompt a thorough investigation for the presence of a thymoma.
The study was published by the Canadian Veterinary Medical Association.
Read the study here https://pubmed.ncbi.nlm.nih.gov/34602633/
Effects of housing environment on oral absorption of acetaminophen in healthy Beagles
Six healthy beagles were included in the study to evaluate the effects of housing environment on oral absorption of acetaminophen in dogs. Acetaminophen was administered in a crossover study design with dogs housed in their normal environment or in a cage in an unfamiliar environment.
Findings suggested that in dogs, housing environment (normal environment vs a cage in an unfamiliar environment) did not significantly affect oral absorption of acetaminophen.
The study was published in the Journal of the American Veterinary Medical Association. CVM authors were Melanie Madsen, Masataka Enomoto, Kristen Messenger and Mark Papich.
Read the study here https://avmajournals.avma.org/view/journals/ajvr/83/1/ajvr.21.06.0075.xml
Host-Pathogen Interactions of Chlamydia trachomatis in Porcine Oviduct Epithelial Cells
Chlamydia trachomatis (Ct) causes the most prevalent bacterial sexually transmitted disease leading to ectopic pregnancy and infertility. Swine not only have many similarities to humans, but they are also susceptible to Ct. This study will provide basic understanding of the host–pathogen interactions in porcine oviduct epithelial cells (pOECs)—the counterparts of human Fallopian tube epithelial cells.
The study was published by MDPI (Multidisciplinary Digital Publishing Institute). CVM authors were Amanda Amaral, Kimberly Bellingham-Johnstun, Caroline Laplante and Tobias Kaeser.
Read the study here https://www.mdpi.com/2076-0817/10/10/1270
Prospective serological and molecular cross-sectional study focusing on Bartonella and other blood-borne organisms in cats from Catalonia (Spain)
NC State Professors of Internal Medicine Ed Breitschwerdt and Ricardo Maggi were part of an international team of researchers involved with this study. There is limited clinical or epidemiological knowledge regarding Bartonella infection in cats. The objective of this study was to investigate Bartonella spp. infections and co-infections with other pathogens in cats from Barcelona (Spain). From 135 cats studied, 80.7% were seroreactive against at least one Bartonella species.
Conclusions: Bartonella and hemoplasma infections are prevalent in cats from the Barcelona area.
Read the study here https://pubmed.ncbi.nlm.nih.gov/34983610/