Filling in the Puzzle of Rhino Survival
You can hear about the horrors of rhinoceros poaching, but nothing prepares you for being inches away from it. 
Heartbreaking poaching statistics are just numbers. Most would instinctively grimace at a picture of a gaping, oozing wound where a horn once was attached. But images cannot convey the sight of bugs attracted to an infection.
You can't feel how surprisingly soft the rhino's belly is, like supple leather, as it rises and falls.
You can't hear the crackles and wheezing of an animal struggling to breathe because its nasal concha allowing air to flow through smoothly is gone.
NC State College of Veterinary Medicine student Dina Ibrahim still remembers the sound.
"It was kind of like Darth Vader, very harsh," she said. "And then sometimes when he would breathe out, something would get caught. You'd hear him struggle and then the sound would pop out like a balloon — pfffff.
This summer, Ibrahim was one of three CVM students who spent two weeks in South Africa with faculty members Anthony Blikslager and Mathew Gerard, conducting groundbreaking anatomical research and innovative endoscopic explorations on the animals that continue to vanish at alarming rates.
The trip was a continuation of Blikslager and Gerard's ongoing rhino research in the country, working with Johan Marais, the CEO of the conservation group Saving the Survivors, which fights rhinoceros and elephant extinction. During a 2016 trip, the colleagues and friends created the most detailed map to date of the paranasal sinuses of the rhino, newly identified by the pair. By locating and identifying the cavities exposed when horns are hacked off, they've provided avenues of treatments previously unimaginable.
But there was more to do, and this time the CVM students, who share a love for rhinos and a motivation to conserve wildlife, were able to do it, too.
Parts of this research trip, funded through the CVM's global health program, was similar to the  previous trips Gerard, the CVM anatomy professor, and Blikslager, professor of equine surgery and gastroenterology, have taken to South Africa. Some of the time was spent working again at the University of Pretoria Faculty of Veterinary Science in Onderstepoort, performing more dissections on rhino cadavers in order to shed even more light on the mysterious anatomical structures of rhinos. This time, the pair and the students — Ibrahim, Haley Dodson and Kelsie Dougherty — explored forelimbs and hindlimbs, and also the nasal passages again.
But Gerard and Blikslager wanted to test their previous findings out in the field as well. During the trip they were able to perform three endoscopies on live rhinos — interestingly, they can be called rhinoscopies since they involve the nose — using their nasal and sinus anatomy pathway findings as a guide. It was a struggle at first, rhino endoscopies are rare and Blikslager and Gerard had never performed one on a normal living rhino. But the two eventually find the way through each time, showing that their earlier research had directly clinical potential for treatments. The students had a direct hand in the endoscopies, too, something they had not expected.
"It's odd, but very quickly we sort-of lost track of the fact that it's a rhinoceros since we've done the procedure so many times on other animals," said Gerard. "You're just looking at the anatomy, watching the TV screen. But then you step back and say, 'Oh, OK. We've just done a rhinoscopy on a rhinoceros.'"
Dougherty has worked with elephants before and described working with rhinos as entrancing. She also relished working in the anatomy lab when not out in the field. Mapping tendons, muscles and bony structures? She calls that fun. 
"As an aspiring wildlife vet, I think global work is vital to my career," she said. "Global work gives you the perspective to be a better vet."
Dougherty became aware of Gerard's and Blikslager's rhino research during anatomy class her first year at the CVM. Interested in all things wildlife and zoological medicine, she, like Ibhrahim, who worked in Blikslager's lab as an NC State undergrad, and Dodson reached out directly to express their interest in joining the two on a rhino research trip. Dodson talked with Gerard about it during her White Coat ceremony, before classes even began.
"I think honestly, when I first heard rhino, I said, 'I'm in,'" said Dodson. "I was like, I don't care what it is exactly or when it is. We don't know enough about the rhino, so that was definitely a big part of it — just being able to be a part of better understanding the animals."
The anatomical features of a rhino are similar to horses, which Blikslager and Gerard have worked with extensively. However, the structure of the rhino paranasal sinuses, in particular the presence of the newly described nasoconchal sinus identified in their early research, is very different than what they've seen in equines. The pair also focused on another part of the nasopharynx further down the airway, which they had seen during their first anatomical study but wanted to spend more time with this time. It's a pouch right above the larynx and its function is unknown.
"We started to ask each other about it," said Blikslager. "[Rhinos] vocalize in an interesting way. You would imagine a very large animal making very loud sounds, but they also have these other sounds, almost like high-pitched or squeaking sounds. It could have something to do with that."
Another theory is that it could have the same function as that of a similar pouch found in horses: a pair of the pouches help cool blood before it gets to the brain.
"As an aspiring wildlife vet, I think global work is vital to my career. Global work gives you the perspective to be a better vet." – Kelsie Dougherty
Filling these anatomical blanks are supremely exciting for scientists, but detailing the structures of rhino limbs is vital information, especially when a rhinoceros is snared or shot in the legs in order for its horn to be poached. Understanding and monitoring the different stages of wound healing through an endoscopy also helps determine when injured rhinos may return back to the wild or to a reserve.
According to the Save the Rhino organization, nearly 9,000 African rhinos have died as a result of poaching in the past decade. About 80 percent of the world's rhinos are in South Africa and most rhino poaching occurs in the country. The figures from 2018 shows a decrease in poaching in the country, though the accuracy of such statistics is often debated. Rhino horn is particularly valuable in Asian countries, where it is sought after primarily for its alleged medicinal properties and use as a symbol of wealth.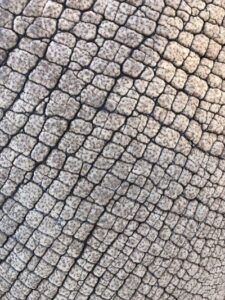 "One thing you recognize when you're a veterinarian is that there's an ultimate reality check that you're not saving the world," said Blikslager. "But doing this kind of work, you are a part of saving one animal at a time. If that animal is endangered that makes a big difference."
Saving wildlife also fuels the passion of the students who took part in the trip; conservation work often goes hand in hand with being a wildlife veterinarian. After this trip, Dougherty stayed in South Africa for the summer to work full time at a wildlife clinic in the suburbs of Johannesburg. She mostly performed animal surgery and rehabilitation for small species, such as caracals , servals and vervet monkeys. She was also able to participate in pangolin conservation efforts.
And both Dodson and Ibrahim said they would like to return to South Africa this summer to continue their rhinoceros work. 
"You immediately take in the gravity of what people did to these rhinos," said Ibrahim. "But you also can feel that many are alive because of what we can now do for them." 
~Jordan Bartel/NC State Veterinary Medicine