Endowed Scholarship Support is a Home Run for Vet Student
First, the bad news: Danielle Barnes will never make it as a professional baseball pitcher.
The good news is that Barnes is in the process of becoming a practicing veterinarian, which is what she actually wants to do. Reaching that goal will be made easier thanks to the Babe and Yogi Scholarship Endowment established by Donald and Kimberly Moore of Greensboro.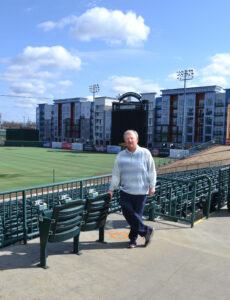 Donald Moore is the president and general manager of the Greensboro Grasshoppers, a minor league team affiliated with the Pittsburgh Pirates. In addition to his fondness for baseball, he is a 1978 NC State alumnus with a bachelor's in speech communications, an entrepreneur, something of a showman and a lover of dogs.
Barnes is a fourth-year student and a member of the Class of 2020 at the NC State College of Veterinary Medicine. Greensboro is her hometown.
To find out how all of these facts become interrelated you have to know the stories of Miss Babe Ruth and Master Yogi Berra. These two black Labrador retrievers, who were brother and sister, belonged to the Moores, and the two of them were trained bat dogs. 
Bat dogs? Yes. 
To increase fan interest in his team's games, Moore hit on the idea of training his dogs to retrieve bats used by Hoppers players during the game and bring them back to the dugout, a duty traditionally performed by batboys and batgirls. He also trained the dogs to carry a bucket of fresh baseballs out to the home plate umpire for use during the game. 
As an extra flourish, at the end of a game the dogs would run all the way around the bases and sometimes fetch baseballs thrown out onto the field, returning them to Moore. 
Not only was it a lot of fun to watch, the dogs did a great job. In fact, Miss Babe is recognized in the National Baseball Hall of Fame and Museum in Cooperstown, N.Y., with the ball bucket she used in her final game on exhibit.
Both Miss Babe and Master Yogi developed cancer that was diagnosed at an advanced stage. Master Yogi died in 2017, with Miss Babe following a year later. 
Both earned legendary status. Miss Babe performed in 649 consecutive games and was once featured on the NBC Nightly News. Master Yogi holds the distinction of being the first dog ever thrown out of a professional baseball game by the umpire after relieving himself on the field.
When his dogs became ill, Moore sought help from the NC State Veterinary Hospital. Even though it wasn't possible to save Miss Babe and Master Yogi, Moore was impressed by the advanced compassionate care available to companion animals at NC State. He wanted to do something to support the education of future veterinary clinicians.
"Even though the diagnosis was bad, it gave us some peace to know that they were in good hands and that we were doing all that we could for them," Moore said. The result was the creation of the Babe and Yogi Scholarship Endowment in 2018, thanks to an initial $25,000 gift from the Moores. Contributions to the fund by others are welcomed. The fund helps veterinary students defray the cost of their education, and stipulates that preference be given to students from Guilford County, N.C. and is part of the Think and Do the Extraordinary Campaign – a $1.6 billion fundraising effort.
Barnes is the first recipient of the scholarship. She loved riding horses growing up, which spawned an interest in becoming an equine veterinarian. That goal has changed during her studies at NC State. 
[give url="https://securelb.imodules.com/s/1209/giving/plain.aspx?sid=1209&gid=214&pgid=3813&cid=6343&bledit=1&sort=1&dids=9746&appealcode=LB001284″ headline="Support Vet Students" subheadline="Help fund the Babe and Yogi Scholarship Endowment" ]
"I hope to get a residency in radiology at NC State after graduation," she said. "We have one of the best programs anywhere right here."
Though NC State has the lowest cost of any leading college of veterinary medicine, Barnes said every dollar makes an impact. 
"This scholarship is extremely helpful," she said. "I want to thank everyone involved with making it available, and I hope this honors the Moores' dogs. I know how much my pets mean to me."
On July 27, Moore invited Barnes, her proud parents and other family members to attend a Grasshoppers home game and throw out a ceremonial first pitch. She was also recognized with a presentation of a certificate on the field when the game was over, right before the spectacular fireworks display. 
Like we said, Moore is also a showman, and part of the show included an appearance by current batdog Miss Lou Lou Gehrig, a niece of Miss Babe Ruth.
Barnes' pitch almost, but not quite, reached home plate. Fortunately, it looks like her future as a veterinarian is going to be a home run.
~Steve Volstad, NC State Veterinary Medicine