Newswire
CVM Class of 2022 Celebrates Hard-Earned Oath & Hooding Moment
When members of the Class of 2022 showed up for the first day of classes at the NC State College of Veterinary Medicine, little did they know that a global pandemic would turn their path to a degree in veterinary medicine upside down.
Having endured COVID testing, distance learning, social distancing, mandatory masks and more, 101 DVM students and 11 Ph.D. students emerged May 6 to take part in an in-person Oath and Hooding ceremony and officially join their profession. The event, held at Reynolds Coliseum on the NC State campus, was also live-streamed on YouTube.
Friends and family members filed in to the coliseum to the sound of Kool and the Gang's "Celebration" playing over the public address system, and it set the tone for the day. A combination of good humor and practical advice marked the ceremony.
Part of the celebration included pride in the class gift of a dental scaler – specifically, the iM3 P6 Piezo Ultrasonic Scaler and Polisher – to the much-beloved Simulation Lab, where students learn basic surgical procedures on realistic animal models.
Following the opening processional, Dean Kate Meurs kicked off the event with the words: "It's a pleasure and an honor to welcome you all. Congratulations to the Class of 2022 – you've earned it." After brief remarks, she introduced Kristen Messenger, associate professor of pharmacology and herself an NC State College of Veterinary Medicine graduate. She was the Class of 2022's choice as faculty speaker.
You've gotten through the challenges of a pandemic with grace, humor and Zoom.
"You've gotten through the challenges of a pandemic with grace, humor, patience and Zoom," Messenger said. The resilience and good humor of the class had been an inspiration to others, she said, and she complimented them on being supportive and helpful to one another.
In between humorous observations, Messenger advised class members to continue to rely on one another during the ups and downs of a challenging career and to be certain to make time for self-care and even self-forgiveness. "Remember to take time to recharge your batteries," she said.
The formal hooding of each graduate was performed by faculty members Lysa Posner, assistant dean of student development, and Mat Gerard, teaching professor of veterinary anatomy, for those with DVM degrees and Sam Jones, professor of equine medicine, for Ph.D. and master's recipients. Onlookers clapped, cheered and shouted encouragement to their favorite grads as one by one they took their turn on stage.
Ed Faulkner, president-elect of the North Carolina Veterinary Medical Association and another NC State CVM alumnus, administered the Veterinarian's Oath to his newest colleagues.
Class of 2022 President Monse Cuevas addressed her classmates, speaking for them all in thanking the faculty, friends and family who provided steadfast support during the demanding four-year course of study.
"Lastly," she said, "I would like to thank the Class of 2022 for allowing one another to be their true selves and accepting our differences while motivating and encouraging each other."
Recounting some of the highs and lows of the past four years, she added, "You have all been my biggest support system, my closest friends and, above all, my Wolfpack family."
Through occasional tears, Cuevas reminded the class of the words she had used so often to encourage them all: "Si, se puede." Yes, you can. It became a class mantra.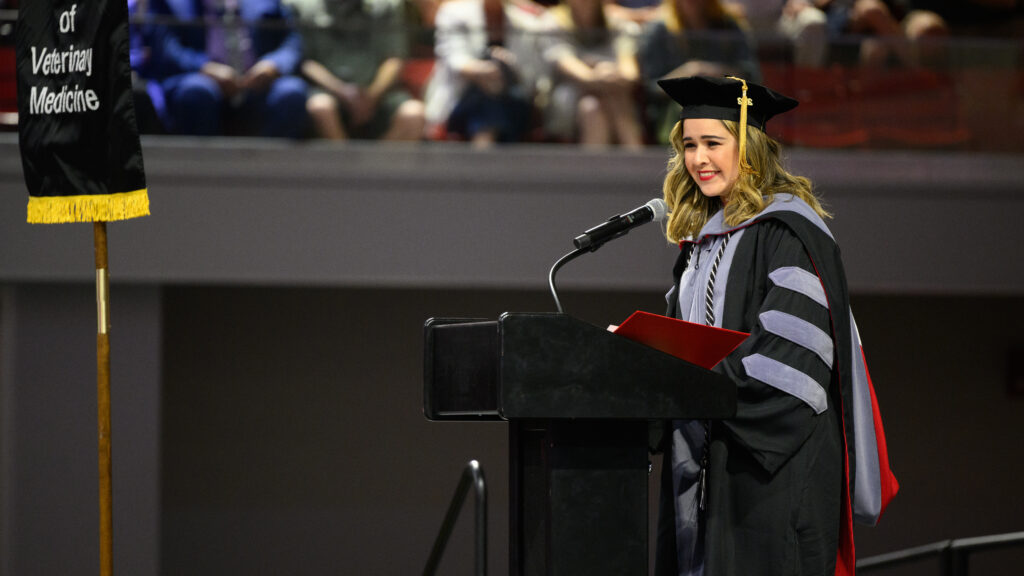 "Stay together," she concluded, "Congratulations, I love you."
Closing out the ceremony, Meurs left the new graduates with a final set of practical pointers: Prepare for a long career in a world of rapid changes, don't forget that you are a member of an elite group veterinarians as an NC State graduate and that we're always here for you, and remember to take active care of yourself.
"Put yourself and your family first," she said. "Let go of the bad things and look for joy."
Meurs concluded by saying, "As you leave us, know that we are really proud of you. Congratulations to the Class of 2022."
The Veterinarian's Oath
Being admitted to the profession of veterinary medicine, I solemnly swear to use my scientific knowledge and skills for the benefit of society through the protection of animal health and welfare, the prevention and relief of animal suffering, the conservation of animal resources, the promotion of public health, and the advancement of medical knowledge.
I will practice my profession conscientiously, with dignity, and in keeping with the principles of veterinary medical ethics.
I accept as a lifelong obligation the continual improvement of my professional knowledge and competence.